Have you ever thought about using color theory to choose the best color show dog bow for your show dog? A little knowledge of color theory will help you to understand what makes a bow color "pop" on your dog, and will help you achieve the effect that you desire. Maybe your show dog has some facial staining that you want to detract from. You can do this with color. What kind of effect do you want the bow to have? Do you want the dog bow color to compliment the coat color and make it appear more intense? You can also do this with color. Maybe you want to emphasize contrast but stay harmonious with your dogs coloring. Anyone can use principles in color theory. Make choices in color that will benefit and compliment your dog and meet your goals for presentation.
Contrast: Contrast is the difference between two colors. The greater the distance between two colors on the color wheel, the greater the contrast, and the way that colors relate to one another is related to their position on the color wheel. Contrast varies with differences in hue, value, and saturation In addition, effects/contrast is further enhanced or subdued by introducing tints (add white) or shades (add black or compliment color) to the mix of colors. Contrast also has to do with what we call warm colors and cool colors; contrast of hue creates warm or cool colors. For example: Red is a warm color…add white to make it a tint and you get pink which is a cool color and a lighter hue of red (a tint). Facial stains are warm colors and can be tempered by using cool colors for dog bows.
Decide what your goal is for the final effect when choosing your show bow colors. When choosing your dog bow color always take into consideration the color of the dog's coat as the starting point color and choose the dog bow color to either enhance the coat, be harmonious with the coat, or for highlight and to add dramatic effect. What does all this mean to you? The color of your dog's coat is the most important consideration when choosing a color. You can adjust the effect that a color has by either choosing a compliment color, a split-compliment color, an analog color, and by varying the color with tints and shades of the same color.
Choosing Complementary Colors will feel vibrant and complement the coat color with contrast. On a color wheel, Complementary colors are directly opposite each other.
Orange-Red-Gold Coat: Ultra Blue, Royal Blue, Kelly Green, Tints of Green dog bows.
Mahogany Red Coat: Emerald Green, Forest or Hunter Green dog bows.
Gold Coat: BOB Purple dog bows.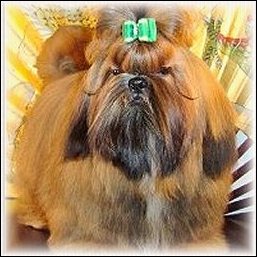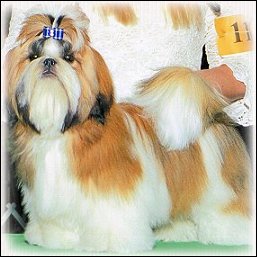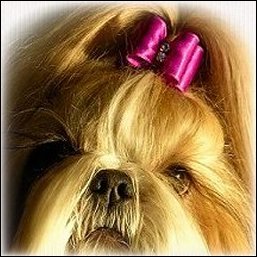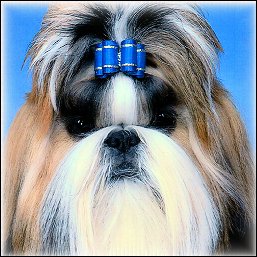 Choosing Split Complementary Colors will give a high degree of contrast with greater harmony than complementary colors. On a color wheel, Split Complementary colors are the complements "next door neighbor".
Orange-Red Coat: Teal Blue, Baby Blue, Turquoise, Periwinkle dog bows.
Mahogany Red Coat: Teal Blue, Aqua Blue, Green Blues dog bows.
Gold Coat: Hot Pink and Pinks, Fuchsia, Raspberry, Royal Blue, Royal Purple, Periwinkle, Turquoise dog bows.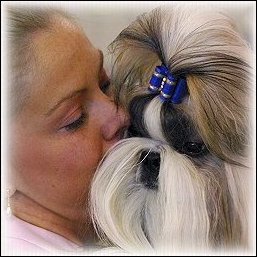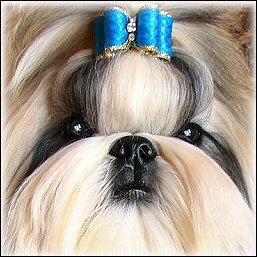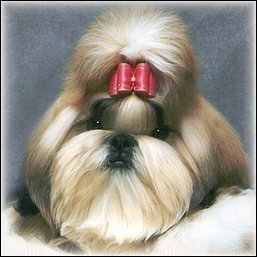 Choosing Analog Colors will feel harmonious with the coat color. On a color wheel, analog colors lie on either side of any given color. Analog colors are combinations often found in nature.
Orange-Red Coat: Ginger, Apricot, Reds, Rust dog bows.
Mahogany Red Coat: Burgundy, Cranberry Red, Rust, Hot Pink, Pinks dog bows.
Gold with Black Eye stripes and Silver Coats: Blacks, Old Gold, Sable, Cranberry Red dog bows.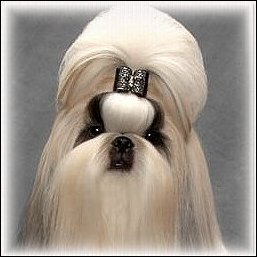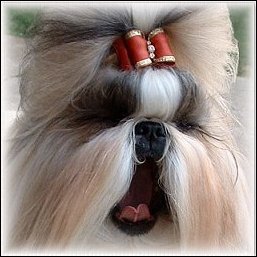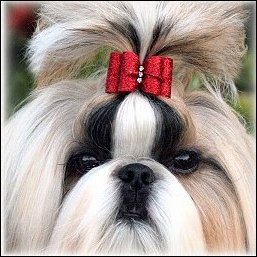 For highlight and dramatic effect on Monotone Cromatic Colors (neutral coat colors) ranging from black to white (Includes silver and grey) use one bright color. For this color scheme you will consider the coat color to be Monotone Cromatic and choose the bright bow color to create highlight and drama. Choosing dog bow colors of various tints and shades of these colors will subdue the effect. Adding white to a color reduces brightness and vibrancy. Also, the use of a pure white or a pure black with these neutral colors would also be effective but avoid a monochromatic color scheme. (Same color as coat)
Black or Black and White Coat: True Red, Royal Blue, Purple, Yellow, Orange dog bows.
Silver Coat: True Red, Royal Blue, Purple, Bright Pink, Emerald Green, and all tints and shades of these colors dog bows.
Brindle Coat: True Red, Royal Blue, Purples, Bright Pinks, Lime Green, and all tints and shades of these colors dog bows.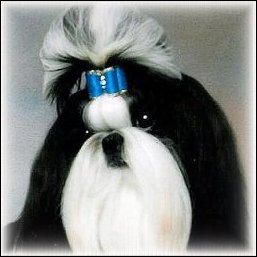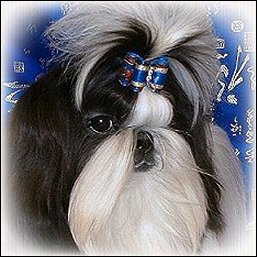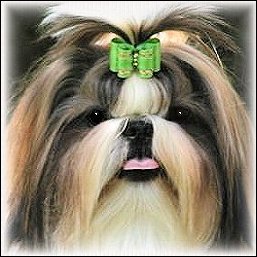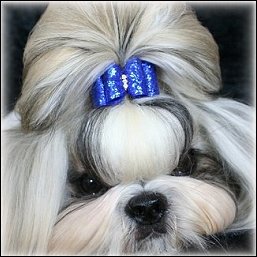 More articles by Doggie Bow Ties...
Comments? Email me!
Check out my dog bows! HERE -->Home Page

No permission will be given to copy, reproduce, republish, upload, post,
transmit, or distribute this article or photos displayed.