Doggie Bow TiesŪ

TERMS AND CONDITIONS OF USE
Use of this site signifies your consent to all terms set out herein. I reserve the right, to change, modify, add, or remove portions of these terms at any time. If you do not agree to these terms of use please do not use the site.
RESTRICTIONS ON USE OF MATERIALS
This site is owned and operated by Lynne McGuire, owner and creator of Doggie Bow TiesŪ. No material from this website may be copied, reproduced, republished, uploaded, posted, transmitted, or distributed in any way. Any use, or modification of the materials, and subsequent use for any purpose other than to communicate or transact commerce with the site is a violation of Doggie Bow TiesŪ copyright and other proprietary rights. For purposes of these terms, the use of any such material on any other web site or networked computer environment is prohibited.
All trademarks, service marks, and trade names are proprietary to Doggie Bow TiesŪ. Doggie Bow TiesŪ is a trade name registered trademark and is registered in the United States Patent and Trademark Office. Doggie Bow Ties Ū may not be used as a domain name or in reference to dog bow accessories, namely ribbon topknot dog bows for small dogs, namely double loop dog bows, single loop dog bows, multiple loop (Loopy™) dog bows, casual topknot dog bows and show quality topknot show bows. In other words, this name represents my product and may not be used by another to promote, sell, or describe their topknot bows. Doggie Bow Ties Ū topknot dog bows and show bows may not be resold using the registered trademark name to identify them in any form.
By submitting any materials (images etc) to Doggie Bow TiesŪ, you automatically grant (or warrant that the owner of such rights has expressly granted) Doggie Bow TiesŪ a perpetual, royalty free, nonexclusive right and license to use, reproduce, modify, adapt, publish, create derivative works from, and incorporate such materials into this website for the purpose of illustrating my product in use on your dog or puppy. Owners of all images submitted to Doggie Bow TiesŪ, may at any time request the removal of their images from my site by written request and such images will be promptly removed.
Doggie Bow TiesŪ Recipe for Dog Bows is my published dog bow instruction that is copyrighted in the Library of Congress; It was written by myself and describes my personal techniques, steps, and tips that I use to construct simple dog bows. No material from my bow instruction may be copied, reproduced, republished, uploaded, posted, transmitted, or distributed in any way. Plagiarism and derivative works are considered copyright infringement and will be aggressively pursued through legal channels.
Registration Number: TX 5-999-419; TX 6-460-691.
CUSTOM DOG BOWS, WHOLESALE, and DISCOUNT PRICING REQUESTS
I receive many requests to wholesale my dog bows. While I appreciate the interest in my product, I do not wholesale my bows.

Doggie Bow TiesŪ dog bows are not discounted for volume orders. I prefer to offer lower competitive pricing for everyone no matter the size of your order, rather than to charge outrageous prices for a bow and then offer a discount. I offer the highest quality product that I can produce, at the lowest price I can reasonably accept for my time, workmanship, and materials.

Doggie Bow TiesŪ is proud to offer innovative and trendsetting dog bow design in professional show bows and high quality pet dog bows, hence the phrase "Creative Bow Design". All bow designs that I offer are my own ideas and "creations". I will be happy to work with you to create customs designs or to meet special sizing needs that you may have.
PRIVACY ISSUES
It is Doggie Bow TiesŪ (my) policy to respect the privacy of all customers and site visitors. Therefore, I will not monitor, edit, or disclose the contents of a customer's e-mail or personal information unless required to do so by law, or in the good-faith belief that such action is necessary to comply with the law or comply with legal process served on Doggie Bow TiesŪ, or to protect and defend the rights or property of Doggie Bow TiesŪ.
My policy of respect for my clients' privacy requires myself to be very careful with personal information collected during the ordering or communicating process. You can be assured that Doggie Bow TiesŪ does not sell, rent, or otherwise give access to your personal information to any other company or individual and that Doggie Bow TiesŪ collects no personal information except when you specifically and knowingly provide that information.
Doggie Bow TiesŪ Paypal Shopping Cart is hosted on a secure server which encrypts all client personal information. Please note, we do not have access to your credit card details when you are paying for your purchases through Paypal.com using your American Express, Visa, Mastercard, Discover Card, or paying with an E-Check from your bank account. Paypal.com is a secure, credit card processor. We do not have any credit card information either stored on our servers or in our office - this is a security measure we take to protect you, the cardholder. When you place and pay for your order, you yourself are paying for your order, we do not process any credit cards to complete the transaction. When paying with Paypal.com it is now no longer necessary to open an account with them, this is a personal choice. You may use their service to pay with your Credit Card or Checking Account.

International shipping charges are determined by your package weight, size, total value and destination country. I cannot be responsible for International shipments that are lost, stolen, or mishandled enroute. By placing your order you have accepted my policies as stated here. Please note, due to high fraud or countries with unreliable postal services the countries listed below are the only countries that I will ship International Air Mail to.



INTERNATIONAL SHIPPING INFORMATION
Shipping To: Australia, Austria, Belgium, Canada, Denmark, Finland, France, Germany, Greenland, Iceland, Ireland, Italy, Japan, Latvia, Netherlands, New Zealand, Norway, Slovenia, Sweden, Switzerland, and the United Kingdom.
AIR MAIL NON INSURED Bow Orders
Your order will be shipped Air Mail with no additional charges from the shopping cart charges unless you request Registered Mail. Please email me to request this service. Registered Mail additional charge $12.00 USD.
NON INSURED
INTERNATIONAL PRIORITY MAIL
By special request your order will be shipped International Priority Mail an expedited service providing fast, reliable, and economical delivery of all shipments not over 4 lbs. If Priority Mail is not available to your destination country, I will email you with your shipping options. Insurance is available and will be an additional charge.
NON INSURED Insurance available for a fee
All International Orders are packaged with great care to insure that your order does not arrive with damage. The customer is responsible for any customs charges that may occur on your shipment. I have no control over length of travel time once your shipment leaves my hands, but it normally takes 7-10 days to ship USPS to most countries. Most important please note: Lost shipments are not replaced by Doggie Bow Ties. I do not replace or refund orders that are lost or stolen. If this is not acceptable to you please do not place an order.


SHIPMENTS WITHIN THE USA
I package all orders with extreme care; All bow orders are packaged within boxes to ensure they are not crushed.
I ship USPS with Delivery Confirmation which will be purchased by the seller for all shipments in the USA.
I am not responsible for orders that are lost or mishandled by the United States Post Office.
Most shipments will arrive within 3-10 days; I have no control over lengthy travel times especially during the holiday season.

DOMESTIC SHIPPING RATES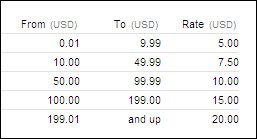 Copyright Doggie Bow TiesŪ All rights reserved.